Back to main Blog

Estes Media
"Certified Hot" New Jersey Healthcare Sites
We have a very keen eye for engaging website design here at E.Media (it's kind of what we do). That's why we are kicking off a new initiative to pay homage to some of our favorite local websites across New Jersey and beyond, and to do so, we are introducing a brand new metric . . . the Spicy Meter! Admittedly this is a light-hearted spin on something we take very seriously: digital marketing. Quarterly, we'll be spotlighting a handful of local business websites featuring the best designs and SEO practices we could search and find, starting today with a trio of healthcare technology businesses. The goal here is to highlight sites so hot you'll be begging for a glass of milk.
Now, we put a great deal of thought into this to create a balanced rating system that calculates an overall 0-5 score based on each site's SEO, engagement, and aesthetic. If you've been sleeping on your site design, you could wind up with our lowest banana pepper rating. On the other hand, let us catch you with a website so hot that we want to introduce it to our parents and you just may earn yourself an exclusive E.Media "Certified Hot" stamp of approval . . . and perhaps the ultra-elusive Carolina Reaper rating (that's at the top of the Scoville hotness scale, for those unfamiliar).
For our inaugural analysis, we're turning our spice-centric gaze to the massively essential healthcare industry. Alongside teachers, healthcare workers have consistently been some of the most unsung heroes among us, but never before has their bravery, selflessness, and necessity been in such crystal clear focus. They are the heroes of this era's front lines and deserving of the brightest spotlight there is, so we're putting our hot n' spicy spin on their immeasurable importance by focussing on the businesses in their field that are ushering in the next generation of life-saving technology.
We believe in the spicier, the better, but more importantly we want to champion the brands around us that hit the bullseye of intuitive, eye-catching site design and thorough search optimization. So grab your notepad and a glass a milk and let's dig into some mouth-watering, extra spicy sites.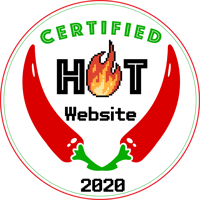 1. Epion Health – www.epionhealth.com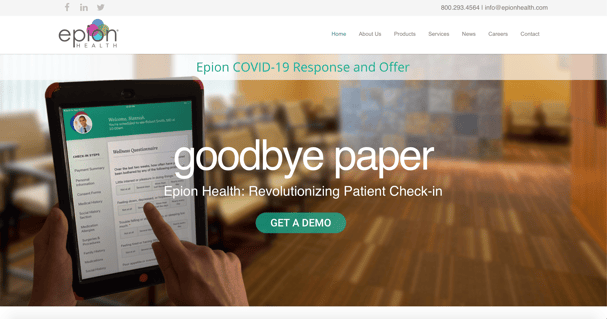 One glance tells the whole story.
Overall SEO: 22 / 25 I Schema: 3 / 5 I Copywriting: 5 / 5 I Overall Engagement: 16 / 20 I Automation: 1 / 5 I Design/Visuals: 23 / 25 I Top Keywords: Medical checkin; medical hcc score

To-the-point and instantly understandable mission

Excellent CTA and easy to navigate
Bland homepage imagery and lacking schema
What We Like: The faster you tell your story, the quicker you'll convert visitors into customers, and what Epion does so well is make its mission instantly and easily understood. Couple that compelling brand promise with its balanced copywriting tone and wise CTA placements, and you've got a recipe for success.
What We Would Change: Automation needs a doctor's appointment. And its seemingly-stock homepage imagery could definitely use a kick.
Overall: What it may lack in schema, automation, and attractive imagery it makes up for in its clear, concise brand promise and easy to read copy. Epion, welcome to the land of the Certified Fresh
OVERALL RATING: Habanero:

2. eVisit – www.evisit.com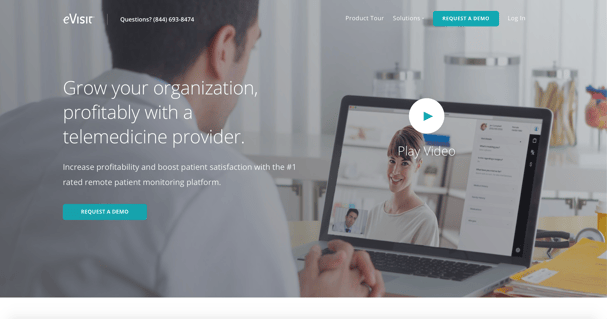 An elegant, sophisticated presentation complements a compelling brand promise.
Overall SEO: 27 / 30 I Schema: 2 / 5 I Copywriting: 5 / 5 I Overall Engagement: 18 / 20 I Automation: 3 / 5 I Visuals: 24 / 25 I Top Keywords: Hippa; telemedicine; telehealth nursing

Fantastic, well-rounded search optimization

Attractive, refined design with an intelligent message
Schema is lacking and copy is difficult to read
What We Like: Its polished, stylish design and compelling brand mission not only complement one another but serve as an ideal example of how striking that perfect balance creates the perfect window into your business. It's also impressively well-optimized for search.
What We Would Change: The schema and automation are both due for doctor's appointments. Similarly, the otherwise strong copywriting is betrayed by an oversight in design -- light-colored copy on a white background makes for some gnarly eye strain.
Overall: This is how first impressions are made. eVisit has the looks and brains to boot but is overdue for an annual physical to fix a few hiccups. That said, our mouths are still burning from this one.
OVERALL RATING: Habanero

3. Noteworth – www.noteworth.com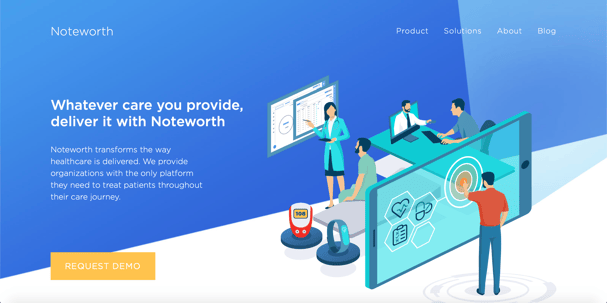 Striking visuals and excellent CTAs make for a spicy site.
Overall SEO: 22 / 30 I Schema: 2 / 5 I Copywriting: 4 / 5 I Overall Engagement: 18 / 20 I Automation: 3 / 5 I Visuals: 25 / 25 I Top Keywords: Data minded solutions

Contemporary, modernized design informs its cutting edge tech

Ever-present CTAs and intuitive navigation
Lacking in content
What We Like: Its extremely colorful, obviously attractive design are an immediate draw, and the CTA presence site-wide is extremely, well . . . noteworthy (somebody had to do it). That design excellence is reinforced by thoughtful, easy navigation.
What We Would Change: This was not the easiest site in the world to find, meaning the SEO is clearly lacking, as is the content, which is questionably sparse. The schema is also in need of a kick. Its substance doesn't quite match its style.
Overall: This feels like 80% of a Carolina Reaper website, which is why we're only able to award it our Habanero rating. Still, it crushes the design and CTA categories, reason enough to give Noteworth a very noteworthy (last time, sorry) Certified Spicy rating!
OVERALL RATING: Habanero

How did we calculate our scores, you ask?
Take a look at this comprehensive chat for a complete breakdown of how our scores are calculated. It also paints a fuller picture of exactly where each brand excels and where we could poke holes in their marketing prowess.
Each category is out of 5 possible points for a perfect score of 75.
Epion Health
eVisit

Noteworth





S

E

O

Easy to Find

4

5

3

Rank High Locally

N/A

5

3

Organic Keywords

5

5

5

Answers Visitors' Questions

5

5

5

Schema Markup

3

2

2

Copywriting Tone

5

5

4

E

N

G

A

G

E

M

E

N

T

CTA Clarity

5

5

5

CTA Placement

5

5

5

Compelling Brand Promise

5

5

5

Automation

1

3

3




A

E

S

T

H

E

T

I

C

Intuitive Visuals

5

4

5

Color Palette

4

5

5

Layout

5

5

5

Navigation

5

3

5

Overall Aesthetic

4

5

5




TOTAL POINTS (out of 75)

61*

*(out of 70)

69

65




SCORE (out of 5)

4.4

4.6

4.3

SPICY METER RATING

Habanero

Habanero

Habanero